Peacemaker Power Tools ~ The Ten Commitments ~ The Bio Mat
30 minutes:  $55 
60 minutes:  $165
90 minutes:  $190

120 minutes x 2 people: $400

(Each person must do three individual sessions first)
In person or zoom
30 minutes: $40
45 minutes: $55
45 minutes: $70

(Bio-Mat detox)

 
Guided by Hitaji

 

Meditation retreats

(

pending)

 

In person or zoom 
Nap Time Detox: The Bio - Mat ~ Still-Point Experience
30 minutes deep rest: $35 
50 minutes deep rest: $55 
In person

 
Infrared waves can penetrate your body deeply
Help raise your core temperature
Help energize your detox pathways and autonomic nervous systems
Help reduce inflammation and joint pain
Help promote cellular healing and restorative rest
Help increase circulation and soft tissue healing
Help improve your mood
Help relax and ground you
Help boost your energy
30 minutes full body refresh: $50
50 minutes full body (

Dry brushing)

: $95
50 minutes full body 

(Bio- Mat Reiki detox)

: $120
50 minutes full body 

(CBD infused Reiki)

: $125
Warm towels for back: $10
Facial steam: $10
In person
Reiki, Healing Touch, Ancestral
30 minutes:

 

$50
60 minutes:

 

$85

 

60 minutes

(Bio -Mat, Reiki):

$110

In person or zoom
Speakeasy: Meditation Support Groups (Angelic Ancestral Support)
Twice Monthly ~ Sliding scale $25 to $85 ~ 90 minutes: (2023) Pending (TBA)
Adult Children of Alcoholics (dysfunctional family systems)
Racial sobriety: BIPOC activist
Racial sobriety: White allies
Food justice: Intermittent fasting
Wiser-Women: 55 years and older
Lockdown: (loved ones) of incarcerated people
Peacemaker Special Bundles Earn Free 30-Minutes of Extra Time!!
Four 30 minutes:  $220 
Four 60 minutes:  $660 
Four 90 minutes:  $760 
Four 120 minutes x 2 people: $1600 
In person or zoom
Full Body Massage Bundles
Four 30 minutes full body refresh: $200
Four 60 minutes full body dry brushing: $380
Four 60 minutes full body (Bio- Mat Reiki detox): $480
Four 60 minutes full body (CBD infused Reiki): $500
Four warm towels for back: $40
Four facial steams : $40
In person 
Reiki, Healing Touch Bundles
Four 30 minutes: $200 
Four 60 minutes: $340
Four 60 minutes (Bio- Mat detox): $440
In person or zoom
Zelle
Send payments to (832) 746-3627
Purchase a gift card for Peacemaker Services. 
Scan the QR Code to pay with PayPal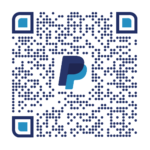 Pour a Blessing on another who might be financially challenged or even a stranger to you. Pay It Forward. Intentionally give and help to restore someone's Spirit with our massage, coaching or Reiki bundles. Consider donating support group fees for one month, two month or 90 days., sliding scale. Be a sustainable auto giver by giving every month. One great massage is better than no massage at all. Give now and receive 10% off your next Peacemaker gift card purchase. 
Virtual Phone Sessions Available
DUO: Facetime alternative
Regular Phone: Just audio
Instructions for ZOOM: To use ZOOM, you will need to download software to your computer. Once installed on your computer, we ask that you open and review preferences to make sure microphone and video work on your system.